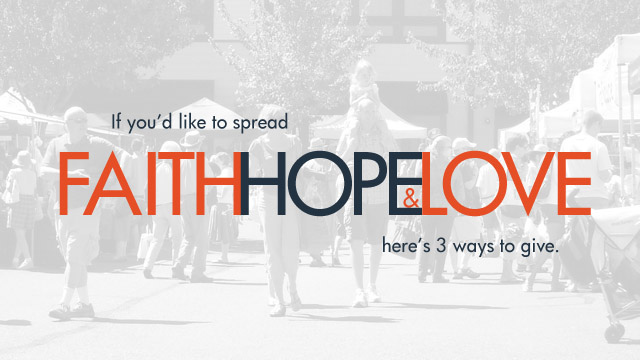 CHANGING LIVES!
By contributing financially, you partner with Epic Life Church in changing people's lives forever. Thank you for your generosity and for your investment.
OUR STORY:
Epic Life Church was launched on September 15, 2013 by a group of people from Westside Community Church. Since that time ELC has grown from 89 people to well over 200. As of 2020, we have seen over 200 people find the hope and love of Jesus, marriages have been restored, hurt people have found healing, addictions have been overcome, we've had the privilege of partnering with 2 local schools in helping to feed and clothe hundreds of kids in need and so much more.
If you'd like to be a part of impacting lives and help Epic Life Church continue to spread faith, hope and love, here's 3 ways to give:
1 - ONLINE GIVING: It's safe, simple and secure: all you need are a few minutes to setup an account. This option also allows you to view your giving history and setup a recurring gift on a custom schedule using your credit/debit card or ACH.

2 - THE APP: It's as easy as 1 - 2 - 3. Download the Church Center App, locate Epic Life Church and begin giving right from your fingertips.

3 - MAIL IN: You can mail your contribution to Epic Life Church @ 8427 NE CORNELL RD, #400, HILLSBORO, OR 97124.
NOTE: Epic Life Church is a nonprofit organization and your gift may qualify as a charitable deduction for federal income tax purposes. You will receive an end-of-year giving statement next January that you can use as a part of your conversation with your tax advisor. We take your privacy very seriously. Any information you provide is held securely and will remain private and will never be given away to third parties, other than to process your scheduled contributions. You can schedule new contributions at any time and can modify or cancel those contributions at any time prior to the date they are scheduled. Once the contribution has been processed, however, it cannot be canceled. If you have any problems or questions related to this, please contact us at info@epiclifechurch.com.
______________________________________
WANT TO MAKE A DIFFERENCE BY SHOPPING:
We have great news! Our church has been approved as a federal 501(c)3. With that, Amazon has approved us as a AmazonSmile Charity. So now it's time to MAKE THE SWITCH! When you shop at AmazonSmile and select Epic Life Church Inc (Hillsboro, OR) as your charity, Amazon will donate 0.5% of the price of eligible purchases back to the church, which in turn can helps us make an even greater impact. So make the switch today by clicking the AmazonSmile link below and get shopping!